Many animals are rodents; here we will only cover rats and mice.
Rodents have adapted very well to the human way of life and decided it is a much easier life with us in the urban areas than out in the woods. They love our warm homes, the easy food sources, and not having to deal with natural predators.
Rats:
In the United States two of the most common species of rats, the Norway or (sewer rat) and the Roof or (black) rat, are the ones you will most likely be troubled by.
The Norway rat is found in every state in the Union. Usually brown. Large species may measure over 12 inches in length, and weigh over a pound. The normally stay close to ground level, and generally nest in burrows in the soil. They eat about anything, grains, meats, vegetable, and even dog droppings.
The Roof rat is found mostly in the warmer climates. It is darker, more towards black, and may be lighter colored on the belly. They are smaller and have a more slender build than the Norway, and tails longer than the body. They generally will be found nesting above ground. (See description below)
Both Norway and Roof Rats require regular sources of food and water, and must have nesting, and hiding areas. Rats will have a general forage area of approximately 100ft. They will however extend that if needed.
Rats cause damage in many ways, including: Chewing/gnawing on items to gain access, and also just to chew. They must continue to chew and wear down their teeth, because the teeth continually grow. They also damage by contamination of any surface they walk on, urinate on, or by introducing fecal material into. They destroy millions more dollars of food product from contamination than from the actual consumption.
House Mouse:
The house mouse is a small, dark gray rodent. When fully grown its body is about three inches long and its tail about the same length. Sometimes young Norway rats are mistaken for mice, but can be easily distinguished. The tail and body are about the same length on the mouse as noted before, whereas the tail of the Norway is shorter than the body. (See description below)
Mice will feed on a variety of items, dead bugs (yum, yum), live insects, seeds, etc. Mice do not require a separate water source; they can obtain all needed moisture from their food.
Mice have a habit a staying close to their food source, I have seen where mice have been born, lived, and raised young in a single stack of feed on a pallet. Mice have a limited range of maybe only 10-15 ft if all needed items are available, (food, shelter). Mice will of course go as far as needed to obtain these items.
Mice, of course, do not like the cold any more than you do and will seek out a nice warm place to spend the winter (in your house).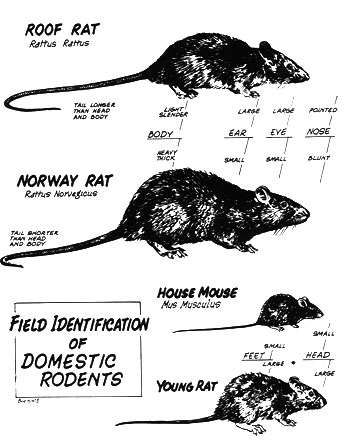 Controlling Rodents:
Rodent control will begin with a complete inspection. We will look for signs of infestation: gnawing, droppings, rub marks, etc. Areas of access: pipe openings, crawl door not sealed, vents not sealed, etc. We will determine the best method of control dependent upon which rodent we are dealing with, and where they are active.
Most control projects will be a service of station placement and correcting any open access areas. The procedure may also include placement of exterior stations. Regular bait replacement is also needed. After about 90 days the baits will become rancid and mold may form. The rodents will not eat the bait after contamination, or it has gone bad.
If you have any evidence of rodents or want an inspection for any pest problem, please call: 757-244-7881 or use our contact page.